Welcome to The Garden Station
A restored Victorian railway station in a woodland garden in
Langley-on-Tyne, near Hexham in beautiful Northumberland

A Visitor Attraction:

Garden, Woodland Walk, Café and Art Exhibitions
Courses in :

Gardening - Art - Environment - Sculpture - Writing - Food
The Garden Station Café

is OPEN long weekends Friday to Monday 11am to 4pm
from Friday 3rd January 2014
(except for Courses and Events)


Please explore the following pages to find out more about the Garden Station
our history, garden, food and which course(s) you fancy trying in 2014.
Our 2014 course programme is currently being finalised,
keep checking back as we are adding courses all the time
Looking forward to meeting our course participants and tutors for
a productive, fun & enjoyable season.


You can also find us on facebook and twitter

Occasionally we are booked for events and the Café & Gardens will not be available.
We will try to publicise these dates in advance, but if you are planning a specific visit
give us a call on 01434 684391 to check.
We are CLOSED for private events on the following dates:




Saturday 19th April

Saturday 3rd May

Saturday 24th May

Sunday 25th May

Saturday 31st May

Saturday 21st June

Saturday 26th July

Saturday 16th August
People love the tranquility and natural planting of this unique garden developed along the former railway track.
Visitors come here from all over the country.
Local customers come regularly through the spring, summer and autumn to enjoy the garden in its different seasons - and to enjoy coffee, cakes and lovely lunches.
The Garden is OPEN EVERY DAY
(unless closed for a private event)

Jill, has already made huge inroads in preparing the garden for this season and she cannot suppress her excitement at having a brand new garden to explore and work with over the coming weeks, months and years. See the Blog for up to date information.
Plants are available for purchase throughout the season and if you need some growing or propagating tips then just ask her.
People have been enjoying our courses at The Garden Station since 2000.
A course here is a day out quite different to anywhere else - a light lunch included.
Go to our Courses page to find out more.
exhibitions of Art in the Garden Station Café and Garden
Our Café hosts the exhibitions of some of our local artists.
and we have some wonderful artworks in the Garden for you to discover.


Current Café Art exhibitions ...
November to February
Haydon Bridge High School Student Exhibition
To celebrate the Art of the students at our local high school we are very pleased to be showing many pieces of work over the winter months. The works will be changed regularly in order that all students get the opportunity to exhibit.
Thank you to the staff and students at HBHS.
The Garden Station can provide an alternative and unique venue in which to celebrate you and your partner's wedding. We are licenced to hold wedding ceremonies and can arrange events from a small cosy party to a larger event

Please ring Phillipa to discuss your needs and to arrange a visit where you can outline your plans for your big day.
See our Weddings page for more information.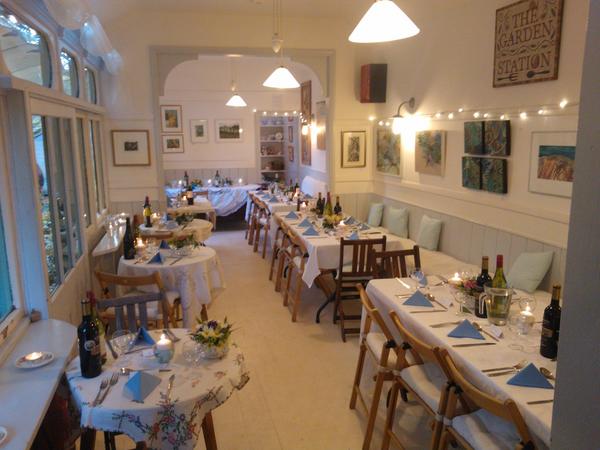 Events
The Garden Station holds both private and public events throughout the year.
Your Private Events

Birthday parties, naming day ceremonies, Anniversaries

Wedding Vows renewal, family get togethers

What Ever You Want To Celebrate


Our Public Events include
Pancake Day, Valentines Day, Easter Egg Hunt,
Vintage Fair, Halloween, Christmas Fair,
Cake Club and monthly Sunday Lunches
Keep an eye on our Blog or our social media sites for up to date information or susbcribe to our newsletter